There is a new baby in the "Supernatural" family ... costars -- and real-life husband and wife -- Jared Padalecki and Genevieve Cortese have welcomed a son!
The Victoria's Secret model baby boom continues -- Adriana Lima is pregnant with her second child!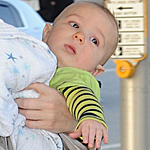 Can you guess the celeb mommy of this adorable baby boy?
She may be giving birth any day now, but that's not stopping Jessica Simpson from stripping off her clothes for the world to see!
The pregnant star gets naked on the cover of the April issue of Elle, where she reveals the sex of her and fiance Eric Johnson's baby-to-be for the first time.
Is there a little guido or guidette on the way for Snooki?
Though the "Jersey Shore" star denied pregnancy rumors in the past, a new report today from the New York Post claims Snooki is three-months along and "plans to bankroll her mommy-to-be status into becoming 'the next Kourtney Kardashian.'"
Break out the blue paint!
Ben Affleck and his wife Jennifer Garner welcomed their third child -- and first son -- in Santa Monica.