The long wait is finally over ... Jessica Simpson is a mom! What do you think of the little one's unusual name?
Dallas Cowboys quarterback Tony Romo and wife Candice Crawford have welcomed their first child, a baby boy! What do you think of his name?

Reese Witherspoon has yet to officially confirm that she is pregnant, but it seems her belly certainly seems to be making the announcement for her now!
Actress Alicia Silverstone reveals that she feeds her son Bear Blu in a unique way -- pre-chewing his food and passing it directly from her mouth to his! Is that ok ... or too bird-like?
The former Disney star gave birth to a baby boy on Tuesday night! Guess what she and her husband Mike Comrie named him?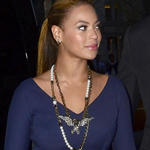 Beyonce's tummy is looking tighter than ever -- just two months after giving birth!